How does a front seat at a Diane von Furstenberg show during New York Fashion Week become a turning point in someone's life?
Especially if that someone is a 20 year old fashion and lifestyle blogger who always knew this was exactly where she wanted and needed to be?
2016-04-12-1460488668-2613454-LarissaMayonWUIA.png
A tall young woman with beautifully styled long brown hair and red lipstick caught me the moment I stepped off the stage at an event for women entrepreneurs. I had just given a presentation on living an authentic life (and not just the one that looks good on your preferred social media profile.)
"I'm Larissa May and I totally get your message. I started a social media movement that's blowing up," she said, looking straight into my eyes. She placed her business card in my hand, and after a strong handshake pulled out a white sticker with black letters that said: #halfthestory.
In one breath full of energy and passion, Larissa explained how #halfthestory was created when she realized she had been creating a picture of an unrealistic and one-sided reality for millions of blog followers.
She decided to share the other #halfthestory instead of just the glam shots — the spilled eye shadow, broken phone screen, late nights spent working and studying, eating on the run, and connecting with people on a more "real, human level" — as a whole person.
A few weeks after we met, and I had posted several of my own #halfthestory posts, Larissa and I sit down at the "O" Gallery in Nashville to talk about her social media project — for Waking Up in America, my show about turning points in people's lives (I'd recommend watching the video interview for the whole experience.)
"#halfthestory allows the story [you are telling] to be about you and not about what you're doing, not about what you're buying, not about what you're eating, not about where you're working out. It's about you and who you are as a person, removing all of that. #halfthestory is about the passion and what you see inside your soul."
"So, what do you see inside of your soul?" I ask her.
Larissa was an artist as a child, but in high school, she neglected that part of her in order to 'fit into a box.' The 'box' was the perfect life she was grooming for at the prestigious Saint Ignatius College Prep school in Chicago.
"I tried to do every AP, I tried to join every club, and I tried to be perfect so I can get into the perfect school to get the perfect job and to live the perfect life. And a lot of that was perpetuated by social media…"
At the age of 18, she got a PR internship in Los Angeles. Alone in a new environment, she asked herself two questions: "How do I meet friends?" and "Who am I when there's no one else around me telling me who I am?"
As she says this, I think about dozens of people — young and old — whom I met through my work as a performer and motivational speaker, who have opened up to me about their struggle to know who they are apart from the person they think they 'should' be. They are constantly comparing themselves to others, and now through social media are feeling even more pressured against everyone else who seems smarter, prettier, and more successful.
I'm excited to hear the answers Larissa has come up with.
"For the first time in a while, I took a moment to stop and listen instead of talk or aspire to be something I wasn't… I realized that if you use social media for the passion then you find the people. It's not finding the people and then the passion."
Because when you connect with people through something that shows the real you — like one of your passions — you don't ever have to try to fit in. You are already accepted for who you are.
Larissa began to create social storytelling art, and built a fashion and lifestyle blog. Dedicated, disciplined and fueled by the energy of her passion, she soon ended up in the front row seat at the DVF show, and found her turning point.
"The more I was getting into my career and the more connected I was becoming, the more disconnected I was with people around me."
What I admire about Larissa is that she really did something with this realization. She didn't just think about it, or talk about it with her friends, but actually made it into a turning point. She took practical steps to make a change — in her own life, and in the world around her.
#halfthestory started as a black-and-white photo project, which Larissa turned into an independent study for her course at Vanderbilt, as well as a global digital and internet project.
And then in the midst of our discussion, she gets quiet and tells me about a girl who was inspired by #halfthestory to share her struggles with her eating disorder, and how it ended up becoming a part of her healing process.
"It's moments like those that make you realize that something that comes from your heart can heal someone else, and it connects people of all ages."
Larissa brings her friend along to the show, the singer / songwriter Julia Cole who wrote the official #halfthestory song and performs it in the episode.
As Julia sings, I think how each posted #halfthestory story triggers more turning points — encouraging us to show up as a whole person, to open up about our struggles, our passions, what makes us joyful and gives us a sense of purpose. Because that's where we all connect — in our desire to be accepted as we are — not just the part that fits into someone else's idea of how we should be.
I am grateful that Larissa looked inside her soul that day at the DVF fashion show, and not only at her phone.
"It looks like she's doing just fine.
Photographs of after parties no one sees her in the bathroom crying.
Makes it seem like she's got all she'd ever need,
But sometimes everything you see is only half the story."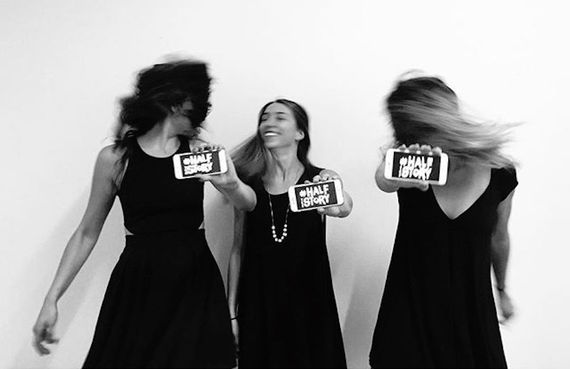 Larissa May, founder of the #halfthestory project, is a fashion and lifestyle blogger at LivinLikeLarz.com and a full-time student at Vanderbilt University in Nashville, Tennessee. Join her movement at halfthestoryproject.com or on Instagram.